Asian Leadership Summit Concludes In DC
 WASHINGTON  -- The 2011 The Japanes American Citizens League (JACL/OCA) Leadership Summit came to a close this week.  After three and half days of intensive leadership training in our nation's capitol, the participants from both JACL and OCA, left the summit with the tools and skills to better lead their communities.   
2011 JACL/OCA Leadership Summit Participants at the Japanese War Memorial.
Highlights from this year's 2011 JACL/OCA Leadership Summit
After a welcome reception Saturday evening, the summit participants started their leadership development training early on Sunday morning with LEAP's (Leadership Education for Asian Pacifics) Linda Akutagawa, which focused on helping participants to define their unique leadership "style". 
Also on Sunday, the participants were led through a fast paced "Congressional Insights Simulation" by State Farm Representatives Leslie Moe-Kaiser, Maria Jackson, and Art Ruiz ; this interactive exercise gave participants the opportunity to actually make decisions and vote on legislative policies through the eyes of Congress.  Leslie Moe-Kaiser also gave a presentation on auto safety, financial education and youth leadership programs that State Farm offers to help build safer, stronger and better educated communities.   
State Farm representatives Leslie Moe-Kaiser, Maria Jackson, and Art Ruiz. 
Former U.S. Secretary of Transportation, Norman Y. Mineta, graciously shared his experiences with summit participants at Sunday's dinner; he eloquently spoke about his experience during 9/11, the history of the JA community, and his vision for the AAPI community.   
On Monday, leadership summit participants convened for a White House Briefing with Brian Jung, Director of Special Projects for the White House Office of Public Engagement, Jon Carson, Director of the White House Office of Public Engagement,William Jawando, Associate Director of the White House Office of Public Engagement, Ronnie Chatterji, Senior Economist for the White House Council on Economic Advisors, Shin Inouye, Director of Specialty Media for the White House Office of Communications, and special surprise guest Chris Lu, Cabinet Secretary and Assistant to the President.   
Following the briefing, participants met with Bruce Yamashita, who successfully won a legal case against the institutional racial discrimination he faced at the Officer Candidate School  of the Marine Corps; his heroic actions to stand up against this discrimination were showcased in his documentary "A Most Unlikely Hero".
As the theme and main policy area of focus for the 2011 summit, anti-bullying was addressed through a panel led by Michael Lieberman, from the Anti-Defamation League, Mou Khan from South Asian Americans Leading Together, and Amy Berman from the Department of Justice.    
The participants also took a tour of the Japanese American War Memorial to Patriotism led by Warren Minami.  Following the tour, Miya Saika Chen, who is the Advisor on Community Engagement for the White House Initiative on AAPIs, spoke about the Initiative and the issues they are currently working on for the AAPI community.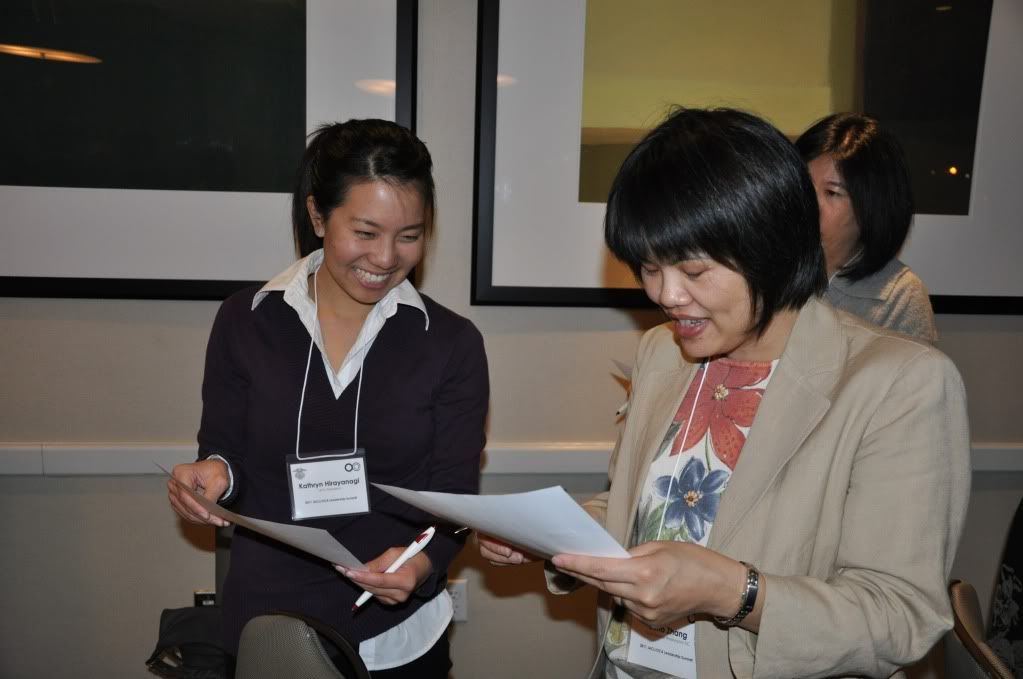 Participants from JACL and OCA get to know one another during an ice breaker.
On the final day of the summit, participants attended a Capitol Briefing withCongresswoman Hirono, Congressman Faleomavaega, Congresswoman Bardallo, Congresswoman Hanabusa, and key staff from Senator Reid Congressman Honda's office.   
To culminate the 2011 JACL/OCA Leadership Summit, participants met staffers in Congressional offices to present their policy agendas on anti-bullying legislation and to let offices know to use JACL and OCA as resources to reach out to the AAPI community.
This summit could not have been possible without the wonderful sponsorship of State Farm.  Also a special thank you to Leslie Moe-Kaiser, State Farm Public Affairs, for her continued support of the summit.
---