Author Reveals Unknown History of African American Quilter
Kyra E. Hicks recently published "This I Accomplish: Harriet Powers' Bible Quilt and Other Pieces."
Washington, D.C. (Vocus/PRWEB ) September 8, 2009 -- An area woman has the art and quilting worlds abuzz with news of a lost Lord's Supper quilt by a famous ex-slave.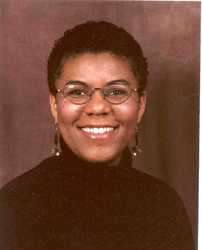 Kyra Hicks, Author of "This I Accomplish: Harriet Powers' Bible Quilt and Other Pieces."
Kyra E. Hicks, 43, recently published "This I Accomplish: Harriet Powers' Bible Quilt and Other Pieces." African-American and art history buffs know that Powers, a former Georgia slave, created at least two powerful quilts 100 years ago. The two folk art quilts are in permanent collections in Washington, D.C. at the Smithsonian National Museum of American History and in Boston at the Museum of Fine Arts. Hicks' research has shed new light on Powers' work and life.
Historians have speculated that Powers stitched pictorial images because, as an ex-slave, she was illiterate. They also hypothesized that Powers quilted more than the two surviving quilts, but had no proof until Hicks uncovered it.
Hicks, a quilter herself and manager at Marriott International, started compiling a simple annotative bibliography of references about Powers and became inquisitive about what was known about Powers.
"I'm a huge fan of the PBS program 'History Detectives'," Hicks said. "I had no idea my weekend investigations would lead me to travel to Massachusetts, Rhode Island, Georgia, and, most surprising, Iowa."
She combed books and microfilm at the Library of Congress and files at both the Smithsonian and Museum of Fine Arts.
In Keokuk, Iowa, Hicks made an earth-shattering discovery: a copy of a letter written by Powers in 1896 to Keokuk resident Lorene Curtis Diver.
Harriet Powers wrote about learning to read as a child. She also wrote about her quilts, including the Bible Quilt now at the Smithsonian, and of an 1882 Lord's Supper Quilt, which seems lost today.
"I firmly believe there is a chance the Lord's Supper quilt by Harriet Powers still exists," said Hicks. "Two Powers quilts have independently survived more than 100 years. Given my research, I believe the Lord's Supper quilt is in a private family collection not yet attributed to Mrs. Powers. I believe someone has the priceless treasure in their closet, stitched by the most famous American quilter, and is just waiting to be discovered."
Carolyn Mazloomi, Ph.D., an author and noted authority on African-American quilts, calls Hicks' book an "extraordinary feat of research" that reveals new information about what may be the most important and iconic historical quilts in the country.
"What she's uncovered has really changed history," Mazloomi said. "She has opened a whole new window to Harriet Powers' life that historians hadn't been able to in the past."
Dr. Patricia A. Turner, a professor at the University of California at Davis and noted folklorist, said that Hicks' book is "absolutely remarkable."
"She followed up on every possible lead that there was and was so tenacious," Turner said. "We now have a much fuller understanding of Harriet Powers' life. It's hard for me to overstate just how important Kyra's book is. I think it's going to be required reading for anyone interested in American quilt history."
About Kyra Hicks
Hicks earned her bachelor's degree in marketing from Howard University and an MBA from the University of Michigan. She is director of online sales at Marriott International in Bethesda, Md. and lives in Arlington, Va.
"This I Accomplish: Harriet Powers' Bible Quilt and Other Pieces"
By Kyra E. Hicks
Black Threads Press, 2009
ISBN: 978-0-9824796-5-0
$19.95, 182 pages
To order Hicks' new book, please visit www.BlackThreads.com. In Washington, D.C., it is available at Politics and Prose Bookstore (http://www.politics-prose.com/). Hicks also is on Facebook at www.facebook.com/kyrahicks.