Equality Group Highlights Upcoming Events
March 28 -- Lincoln Memorial Event: Supporting Racial, Gender, and Religious Equality and Liberty
Responsible for Equality And Liberty (R.E.A.L.)
http://www.realcourage.org/2010/03/lincoln-memorial-2010-rally/
Public Awareness Event at Lincoln Memorial Reflecting Pool Steps - Washington DC -- March 28, 2010 - 2 PM to 4 PM
-- Public Awareness Event in Support of in Support of Racial, Gender, and Religious Equality and Liberty-- Rejecting Hate
-- for more information email us at info@realcourage.org
Responsible for Equality and Liberty (R.E.A.L.)'s orange ribbon campaign is to promote consistency in equality and liberty for all people of every race, gender, and religion, in the United States and the world.  We also know that without a consistent commitment to equality, we cannot realize human liberty.
1. Promoting Racial Equality - Defying Racial Supremacism. The truths that we hold self-evident as human beings and as Americans that all human beings are created equal is a fundamental part of identities.  But there are increasing numbers of extremist and hate groups who seek to deny such truths.   The number of hate groups, especially white supremacist hate groups, continues to rise in America.  In June 2009, we witnessed a white supremacist terrorist attack in Washington DC where Stephen Tyrone Johns was murdered, and we continue see hate from the Stormfront group members that continue topromote violent attacks in America.  One such Stormfront white supremacist, Daniel Cowart, will be coming up for trial. Other trials of white supremacist hate group members are also upcoming.  We must not continue to ignore the growing threat of racial supremacist hate - we must send a message to racial supremacists - Never Again.
At R.E.A.L.' s April 4, 2009 public awareness event on the Lincoln Memorial reflecting pool steps last year, we warned of such growing racial hate groups.  We called for the answer in Love, Not Hate.  Even in our protest of the "white nationalist" "American Renaissance" group (based in Virginia) that sought to spread racial hate in February in the Northern Virginia/ Washington DC area - we urged love and racial harmony there as well.  After our February 2010 public awareness campaign with the public and local hotel, the American Renaissance biannual conference was canceled for the first time in 16 years.  Our voice in defying racial hate can be heard.  Our shared consensus on standing for racial equality, diversity, and harmony does have power and influence.
Yes, We Can promote racial equality and defy racial supremacism.  But we must act, and we must get our message of love for our universal human rights and our fellow human beings out to the public.  We need to urge them to Choose Love, Not Hate.  Love Wins.
2. Promoting Gender Equality - Defying Misogyny. Not Just Men, But All Women Are Also Created Equal.  This is why we continue to call for full Constitutional Equality for women in America.  Surely, America cannot be the last place where we fight for women's rights, it must be the first place. American women deserve Constitutional Equality - because they are worth it.  That must be a national declaration, never a question.
Our support for consistent human rights in being responsible for equality and liberty always includes all women as a fundamental basis for our activism.  No matter what the issue is, somewhere, somehow, women are ultimately affected.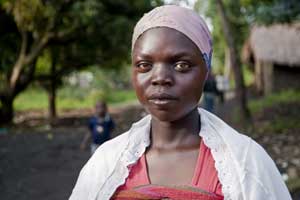 But our struggle for our sisters' gender equality and America and around the world has many facets.  It includes the continuing violence, abuse, and degrading of women in America.  It includes the 1,000 women raped every month in the Congo as acts of war and genocide.  It includes the millions of women oppressed by Communist totalitarianism in Communist China.  It includes those women who are abused by religious fanatics in America who think they have a God-given right to sexual abuse.  It includes threats to women in America and around the world by those who believe that they have a right tokill, stone, beat, and oppress Muslim women.
We stand in solidarity with our sisters in American and around the world for their gender equality, freedom, and lives.  Especially in the case of our oppressed sisters everywhere, we urge all to Choose Love, Not Hate.  Love Wins.
3. Defending Religious Freedom - Defying Religious Supremacism and Totalitarian Oppression. In being responsible for equality and liberty, we also defend our universal human right to religious freedom for all.  Today, many do not have such rights of religious freedom.  Others live in constant fear and threat for exercising this most basic human right of freedom of conscience.  We stand to speak in support of such freedoms for all.
In America, we see hatred of those with different religions too often.  We are responsible for standing up for religious pluralism and freedom in America and around the world.  This means rejecting those who would defile churches, mosques, synagogues, and other houses of worship.  We reject those ideologies of hate and individuals who promote hatred against any religion, including those who would deny all human beings the freedom of conscience to change their religion.  We reject hate groups in America such as the so-called "Westboro Baptist Church" "hate group" , as well as those whose mission is to spread hatred against and attack people of other faiths.
In too many nations of the world, religious freedom is not even a consideration.  In Communist China, totalitarians have denied both Christians and Muslims rights to freely worship, and have conducted campaigns to destroy houses of worship and arrest those who dare to freely exercise their religious beliefs.
An international human rights group, Set My People Free, will be holding events on April 3 in locations around the world calling for freedom of people of all faiths to worship, where converts to other faiths in many Muslim majority nations are currently oppressed.  Such oppression is horrifying - in Pakistan, mobs of thousands have gone to Pakistan Christian villages, burned homes, churches, and people alive.  In Egypt, Coptic Christians have been victims of terrorist attacks as they have exited from Christmas Eve services.
Freedom of conscience is our commitment to equality of worship.
We stand united, responsible for such equality and liberty, in America and around the world.
Our Cause: Equality And Liberty for All --- for All Races, Genders, and Religions
Dr. King Had A Dream - We Have A Responsibility

On the Lincoln Memorial Reflecting Pool steps, Dr. Martin Luther King Jr. once told us "I have a dream." We continue to honor that dream and that vision not simply by good intentions but also by action.  As Dr. King had a dream, We Have a Responsibility.
We have a Responsibility for Equality And Liberty.
These causes are all related to our common commitment, our common consensus, our shared universal human rights of equality and liberty.  We share this consensus with one another.  Let us use this day, this opportunity, on March 28 to help the public become aware of how much we have in common, and how the using the power behind our shared commitment to equality and liberty can change America - and can change the world.
As we urge those in America and around the world to...
Choose Love, Not Hate.  Love Wins.
Join Us.
March 28 Event Logistics:
Our event will be held from 2 to 4 PM on Sunday March 28, at the reflecting pool steps in front of the Lincoln Memorial (not the Lincoln Memorial steps).  We are recommending that attendees take public transportation via the Washington subway to either the Foggy Bottom metro stop and walk south to the Lincoln Memorial, or the Smithsonian metro stop and walk west along the National Mall and 17th street to Lincoln Memorial (see details below).
For more information, email: info@realcourage.org
Important note - the reflecting pool steps where our event will be located is on the east side of the 23rd street that goes between the Lincoln Memorial itself and the reflecting pool in front of it.
The Lincoln Memorial in Washington DC is on the far end of the National Mall and bisects 23rd Street (see PDF of map).  It can be reached from Constitution Avenue from Henry Bacon Drive and from Independence Avenue from Henry French Drive.  Limited parking may be available on Independence Avenue or Madison Avenue near the National Mall, or at the Jefferson Memorial.  However, parking in Washington DC is scarce, and using public transportation is strongly recommended.
DC Subway and Walking Directions
Walking from Foggy Bottom subway stop to Lincoln Memorial
-- Map in walking from Foggy Bottom to Lincoln Memorial
* Exit station using main exit
* Walk approx. 7 blocks S on 23rd St NW. (stay on 23rd Street essentially until you get within visual range of Lincoln Memorial)
* Turn right on Lincoln Memorial Circle SW.
* Walk a short distance W on Lincoln Memorial Circle SW.
Walking from Smithsonian subway stop to Lincoln Memorial
* Exit station using 12TH & JEFFERSON (THE MALL) exit
* Walk approx. 2 blocks W on Jefferson Dr SW.
* Turn right on 14th St NW.
* Walk approx. 1 block N on 14th St NW.
-- Map in walking from Smithsonian subway to Washington Monument (en route)
* Keep walking past Washington Monument west in the direction of the Lincoln Memorial
* Cross 17th Street going west
* Walk past National World War II Monument west in the direction of the Lincoln Memorial
* Continue to walk down Washington Mall in the direction of the Lincoln Memorial
* NOTE: that our rally will be on the side of the reflecting pool nearest the Lincoln Memorial

Lincoln Memorial Information Center
23rd Street, NW
202-426-6841

National Park Web Site Directions to the Lincoln Memorial

Lincoln Memorial is part of the National Mall and Memorial Parks. The memorial stands in West Potomac Park, near the convergence of numerous roads from throughout the Washington, D.C. metropolitan area. In terms of placement, the memorial occupies a highly symbolic and important position as the western "bookend" of the National Mall, while the Ulysses S. Grant Memorial provides the eastern component at the foot of Capitol Hill, two miles to the east.
Car
Interstate 395 provides access to the Mall from the South. Interstate 495, New York Avenue, Rock Creek and Potomac Parkway, George Washington Memorial Parkway, and the Cabin John Parkway provide access from the North. Interstate 66, U.S. Routes 50 and 29 provide access from the West. U.S. Routes 50, 1, and 4 provide access from the East.
Public Transportation
There are several Metro train and bus routes from the suburban areas surrounding the city. In addition to Washington, D.C. public transportation, adjacent state and commonwealth transportation authorities offer train service from area cites to the Nation's Capital. Consult the Public Transportation link for additional details.
Parking
General visitor parking is available along Ohio Drive, SW between the Lincoln and Thomas Jefferson Memorials. Bus parking is available primarily along Ohio Drive, SW near the Lincoln and Thomas Jefferson Memorials and along Ohio Drive, SW in East Potomac Park. See the Maps section for a detailed understanding of these areas.
There is limited handicapped parking at the Franklin Delano Roosevelt and World War II Memorials and near the Washington Monument and the Thomas Jefferson, Lincoln, Korean War Veterans, and Vietnam Veterans Memorials; otherwise, parking is extremely scarce in Washington, D.C.
---