Latino Nutrition Month Inspires Healthy Choices At The Table
Latino Nutrition Month Inspires Latinos To Bring Healthy Choices To The Table
Oldways and the Latino Nutrition Coalition announce Latino Nutrition Month from September 15 through October 15
Boston, MA -- To build awareness that making healthy food and lifestyle choices can reduce the rise of chronic disease facing the Latino community, Oldways and the Latino Nutrition Coalition (LNC) announce Latino Nutrition Month from September 15 through October 15.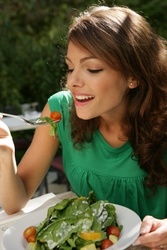 "Incidences of obesity, cancer, diabetes and heart disease continue to plague the Latino community," said Adriene Worthington, RD, Oldways and LNC. "The good news is that studies show eating a healthy and balanced diet lowers the risk of many of these diseases. Celebrating Latino Nutrition Month is a wonderful way to inspire Latinos to reconnect with their flavorful and healthy food traditions in order to improve their health."
Latinos face a number of health risks. For instance, 10.4% of Hispanics aged 20 years or older have been diagnosed with diabetes, according to the CDC (National Diabetes Fact Sheet 2007). This is important since the overall risk of death among people with diabetes is about twice that of people without diabetes of a similar age. Additionally, a recent study led by Dr. Paulo Pinheiro, a public health researcher at the University of Miami Miller School of Medicine, showed that first-generation Hispanics in Florida are much more likely to develop cancer than people in their home countries which could result from unhealthy habits adopted in America such as overeating. These findings, as well as those of other health studies, reinforce the importance of eating and living well.
Coinciding with National Hispanic Heritage Month, Latino Nutrition Month will introduce consumers to a variety of ways to cook, eat and enjoy the Latino diet pattern. For instance, the introduction of an updated Latin American Diet Pyramid will stress the importance of putting plant based foods (fruits, veggies, nuts, beans and spices) at the core of one's diet. Additionally, consumers can enter Oldways/LNC's Latin American Diet Recipe Contest to win a variety of prizes.
Latino Nutrition Month consumer and health care professional programs featured on the Oldways and LNC websites include:
1. A Latino Month Calendar, featuring a tip-a-day for following the healthy Latin American Diet.
2. A 7-Day Healthy Latino Menu: 7 days of breakfasts, lunches, dinners, and snacks, with calorie counts.
3. Affordable Latino meals, including recipes and price information for families, seniors, college students and others stretching their food dollars.
4. An updated Camino Mágico, a downloadable, bi-lingual supermarket shopping guide to help Latino shoppers make healthy choices among the endless food options available at supermarkets today.
5. Latin American Diet Recipe Contest on the LNC site and The Oldways Table Blog. Consumers should submit a recipe that uses at least two Latin American Diet products (see list below). Winners will be drawn at the end of the October, and announced on our websites. Prizes include wonderful Latino products and autographed copies of our widely-praised book, The Oldways Table, chock-full of wonderful recipes and short essays about food and wine experiences.
6. A 2' X 3' poster with an updated illustration of the Latin American Diet Pyramid will be available at The Oldways Store.
7. Latino Health Professionals Tool Kit featuring meal planning tips, recipes, handouts and more is available to Health Professionals and Supermarket RDs.
Details for Latin American Diet Recipe Contest: Submit a recipe for a soup, side, main dish or dessert to Adriene Worthington (aworthington (at) oldwayspt.org) using at least two of the following ingredients: Amaranth, Avocado, Bell Peppers, Beans, Carrots, Cheese, Chicken, Chickpeas, Chilies, Cilantro, Fish, Guava, Kiwifruit, Lemons, Limes, Maize, Mango, Okra, Olive Oil, Orange, Papaya, Pasta, Peanuts, Pineapple, Plantains, Potatoes, Pork, Quinoa, Rice, Salsa, Shellfish, Soybeans, Soy Milk, Squash, Sugar/Sugar Substitutes, Tomatillos, Tomatoes, Tortillas, Watermelon, Whole Grain Cereals, Yuca, Yogurt.
###
Post Comment:
Trackback URL: http://www.prweb.com/pingpr.php/SW5zZS1TaW5nLUNyYXMtU2luZy1aZXRhLUNvdXAtWmVybw==